Renewable Referrals shows business owners how to get more opportunities in front of ideal client prospects, hand-delivered by other companies serving that same market using Referral Marketing.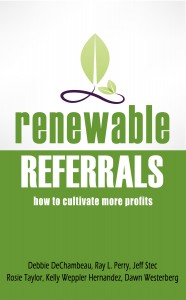 Ever feel like if you could just get more "at bats" in front of prospects that you could close more sales? We all know getting targeted leads is the bread and butter to small business marketing, but it can become more than frustrating when those leads that were plentiful as you started your business seem to dry up as the months and years pass.
What you need to give your business's bottom line a boost is referrals. These are the best type of leads, because they are pre-qualified. In fact, referrals tend to travel down the sales funnel much more quickly than any other type of lead. Usually, referral customers are already sold on the idea of doing business with you and aren't even checking out your competitors because they're already convinced that you are the one to help them. This means a lower cost of sales and a way to bring more revenue into your business with less time and effort.
Getting more referrals coming through for your business doesn't have to be a complicated process, but it definitely helps to have a system in place. Renewable Referrals: How to Cultivate More Profits, a book from Ray L. Perry and a group of fellow Duct Tape Marketing consultants, walks readers step-by-step through a proven strategy for building a successful client referral program. Not only does the book help you to bypass the common pitfalls in referral marketing, but you will also learn exactly what to do to make your referral partners eager to send you all the ideal customers you can handle.
Get the Game Plan and the Players to Hit a Homerun for Your Referral Program
The authors of Renewable Referrals take you beyond just learning the basic concepts of strategic partnering for referrals and go deep to provide you with a detailed plan, practical tips and plenty of real-life examples, so you can move forward with confidence to establish a solid referral system for your small business. This means you won't have to wonder whether you are doing it right or question your next move; it's all laid out for you.
With this book, you will know the exact tactics you need to use and the plays you need to make in order to take effective action immediately. And when you take the actionable steps provided, you will get the results you want.
The five authors of this book have worked with numerous clients to grow their businesses through building renewable referral systems just like they cover in the book. Using what they've learned through their extensive training and professional experience, they've created this guide to building an effective referral program for small business owners seeking to fill their sales funnels with more highly-qualified prospects ready to buy.
Build a Successful Referral System: It's All about the Win-Win-Win
The thing to keep in mind when building a new referral program is that it is only successful if it works for everyone involved. Of course, you want to come out the winner with more qualified prospects and increased revenues, but in order for you to get to that position, your referral partner must win and your customer must win.
"Renewable Referrals" shows you exactly how to create this win-win-win situation. Here's a sampling of what you can expect to learn:
Why referrals are the single most effective way to get more customers who are eager to buy from you.
The common dangers – real and imagined – that are keeping you from taking action on your referral program ideas.
A simple step-by-step strategy for building a client referral program that gets results.
How to make sure your customer referral program leaves everyone – you, your referral partners, and your new customers – so delighted that your results improve year after year.
Excellent referral program ideas that will make your referral partners eager to send you all the ideal customers you can handle.
Easy ways to get more referrals now, following a proven system that works in any industry.
Whether you are just getting started in your business and the incoming leads seem to be coming to a screeching halt, or you have been in business for a while and leads are nowhere to be found, Renewable Referrals is the guide to help you work through your unique challenges and tap into the power of a referral system done right.
Even better, is that this is the kind of guide that grows with your business. You will be able to continue to apply what you learn through the book to increase revenues and grow your business—not just now, but for many years to come, no matter how your business changes over time. The systematic approach available through the book means you will have actionable steps you can take to repeatedly produce consistent results year after year.
Thanks to Renewable Referrals, you no longer have to worry about how to get targeted leads or, even worse, be forced to pay for leads that may or may not be interested in what you have to offer. You no longer have to feel like "that annoying business owner" always begging his friends and family for leads. Now, you can fill your sales funnel with highly-qualified prospects who are ready and willing to do business with you. Simply put, they want what you have—no begging necessary!
All you have to do now is get your own copy of this small business guide to creating a powerful referral program, and you will soon have an unstoppable stream of ideal customers for your business. This is your opportunity to get top-notch advice you can implement right away from the top professionals in referral marketing. When you have the strategies, tactics and steps right in front of you, you have a foolproof, winning combination on your hands, and success is inevitable.
Learn how to get a Free copy of the Renewable Referrals Book and get a professional business marketing audit for your business. This is a $500 value, yours free, for completing the Business Marketing Audit. After taking a few brief moments to submit your information, you will not only receive this expert audit, but also your personal copy of Renewable Referrals.
Referral Marketing in Atlanta
Contact MarketBlazer today for more information about our packaged marketing programs for businesses of all sizes, as well as our custom marketing programs for business owners looking for something above and beyond!