The Value of Working with the Right Atlanta Website Designer

At the heart of a small business is the ability to remain true to its roots and serve the local community around it. This fact is no different in Atlanta, where small businesses are currently flourishing as they develop incredible products and services that make this wonderful city even greater.
As an Atlanta small business owner yourself, it's imperative that you consider how your brand is being represented in a marketplace that's largely dominated by the internet. In addition to focusing on search engine optimization and how it directly impacts your ability to generate leads, you also need consider web design and usability.
Why Good Website Design Matters
Good web design matters for a number of reasons. In fact, if you want anyone to take your internet presence seriously, you need to master this aspect of branding. Here are four specific reasons why:
First impression. The average consumer has many different choices when shopping around for products and services in competitive industries. That means you can't take for granted any opportunity you have to positively influence customers. Good website design is one of the best ways to create a strong first impression.
Bounce rates and conversions. Poor web design is one of the primary reasons internet users bounce from websites and fail to follow through with conversions. On the other hand, good website design keeps users engaged and naturally funnels them towards calls-to-action and conversion goals.
More control. Effective web design allows businesses to control user experiences by directing their eyes towards certain elements, such as logos and calls-to-action.
Increased satisfaction. Ultimately good web design leads to satisfied users who feel comfortable with your brand and are willing to trust you with their business. That makes quality web design a powerful mechanism in the grand scheme of lead generation.
Sounds simple enough, right? Well, in order to enjoy the full benefits of good web design, you're going to need a talented Atlanta web designer who can transform your website from a stagnant collection of pages into a sleek destination for relevant information and valuable resources.
5 Website Design Tips That are Helping Atlanta Small Businesses
Few industries change as quickly as web design. What's taboo one month can easily become a hot trend the next. With that being said, it's rarely smart to focus on the latest, greatest trend. Instead, you should focus your attention on proven tactics that will remain relevant for months and years to come.
1. Invest in Responsive Design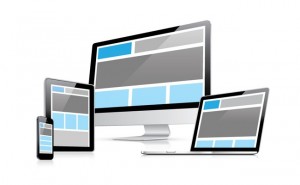 Did you know that, for the first time in history, the number of mobile-only adult internet users now exceeds the number of desktop only users? When you look at the percentages from just 18 months ago, it's clear that the future of internet access lies in mobile devices.
While this is fine, it provides a bit of a problem when you consider that mobile devices such as smartphones and tablets don't have standardized screen sizes. If you were to use a traditional website and mobile templates, you'd find it hard to deliver web pages that offer a good user experience. Thankfully, there's a solution. Responsive web design allows you to design web pages that can be seamlessly accessed from one device to the next without compromising user experience or aesthetics.
2. Focus on Quick Navigation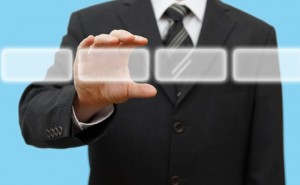 Simple navigation and quick page loading times are very important factors. Today's internet users are quite savvy and have become accustomed to websites that work without any issues. If your site is choppy or slow, you won't be able to retain or convert users.
According to this infographic from KISSmetrics, 47 percent of consumers expect a web page to load in two seconds or less, while 40 percent will abandon a website if it takes longer than three seconds to load. Quality web design plays a major role in site speed, so this should be a focal point when designing your website.
3. Leverage Social Proof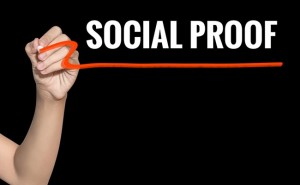 Social proof is becoming a really important factor in modern web design. Consumers love assurance and affirmation when it comes making purchases, so you should appease this desire by incorporating elements of proof from past and current customers. Here are some fantastic examples of social proof in web design.
4. Keep it Simple and Clean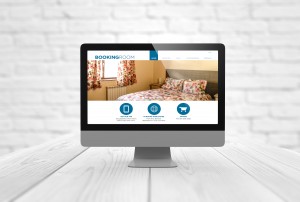 Gone are the days when good web design meant incorporating as many cool elements and widgets as you could possibly find. Now the mark of quality web design is simplicity. You'll notice that leading brands love white space. If you visit any of Apple's web pages, you'll notice that this clean look is really attractive. While you may not be able to get away with the exact same look, it's imperative that you try to keep things as simple as possible.
5. Carefully Consider Color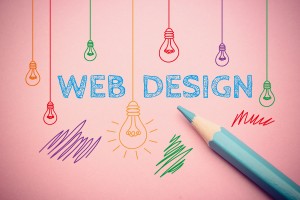 Color and theme selection should involve more than personal preference. Different colors have different effects on the human brain and your selection of a color palette can significantly change the way users see your brand.
If you want further proof of this, check out this infographic from The Logo Company. It does a nice job of breaking different brands down by their colors and showing how they leverage the psychological impact of these different tones to produce unique emotions in their customers. While your color scheme may depend on your existing logo and branding, now might be the time to reconsider your options.
MarketBlazer: Your Atlanta Website Design Partner
At MarketBlazer, we're consistently ranked the number one Atlanta website designer in the area. We accomplish this by offering cutting edge web design tactics, incredible responsiveness, and highly focused attention to detail that's matched by no other web designer in Atlanta.
By focusing our efforts on WordPress websites that are built on the StudioPress Genesis platform, we're able to consistently develop high quality, turnkey solutions that are already optimized for search traffic and stellar usability. If these are things you want in your website, then don't wait any longer. Contact us today and we'd be happy to help you design a stellar website for your Atlanta small business.