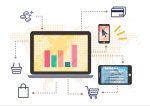 Live chat is a great feature for your business to offer its customers. It allows instant feedback for customers. Choosing which live chat plugin to use is a difficult decision. Hub spot live chat is a solution for a plugin. It allows people to set up targeted messages for different pages. The live chat feature is included in both the free and paid versions of hub spot. SnapEngage is a plugin that allows live chat via whichever social media platform your customer is using.
Key Takeaways:
This world is based on instant gratification where people expect an immediate response to their queries. No one wants to be put on hold for thirty minutes.
Live chats can be used for customer service or to close sales because it gives the customers the real time interaction which they long for.
The Hubspot live chat tool can be used to set up targeted messages for different audiences and if no one is around it provides an email form.
"Live chat can provide a more immediate, personalized support system for your customers and prospects, even when you aren't personally there to answer immediately."
Read more: https://blog.hubspot.com/marketing/wordpress-live-chat-plugin