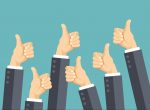 Effective use of content marketing can have both short- and long-term benefits for your company. It can provide new leads and a higher conversion rate and boost your search engine rankings, while also bolstering your company's overall reputation with customers and within the industry. You need to start out with clear goals, and associate them with Key Performance Indicators you can use to measure your attainment of these goals. You also need to have a thorough understanding of your audience, and to know what content you already have.
Key Takeaways:
A great content marketing strategy can be used to fulfill many diverse online business goals, including the need to increase web traffic.
Such a plan, well-executed, can bolster your brand's status as a leader in industry trends and thinking.
A great plan can also build useful backlinks, generate leads and increase sales conversions.
"The best way to start with any new strategy is to define what you plan to achieve."
Read more: https://mention.com/blog/content-marketing-strategy/