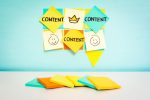 Despite 2019 being half over at this point, this should be no reason to limit yourself when implementing new small business marketing strategies for the remainder of the year. In her new blog post, Katherine Boyarsky explains the core elements that make up a successful small business, provides an outline on how to get started with 26 unique tips and details out each of these tips with a small blurb on what they really mean and what actionable steps you can take to cross each one off of your to-do list.
Key Takeaways:
One of the most important assets your small business needs is a professional-looking website.
A blog will help promote your business's visibility and it helps you build trust with potential customers.
Create a buyer persona of your ideal customer to help you understand what people are looking for from your business.
"Whether you're in the process of launching a new business or already have one, having a strong online presence for your brand is extremely important."
Read more: https://blog.hubspot.com/marketing/small-business-marketing-guide